If you are seeking to enroll your child in a tennis program, then you probably want them to make tennis a lifetime sport. A key to that will be finding the right instruction so that they develop a great taste for the game. Conversely, a bad experience can lead to them never wanting to pick up a racquet again.
Obviously, tennis instruction for kids comes in many shapes and sizes. If you want to give your child a simple introduction to the game, they can enroll in a free or low-cost course through your local parks and rec program.
What to Look For When Seeking Out Tennis Instruction For Kids
If you think your child is a budding pro or has extraordinary talent, then you might consider private instruction, even from the first bounce. As your child matures, you will probably change course in finding teaching for him/her also. The child that is just learning the game differs greatly from the one who is striving to make the high school team or advance in the regional rankings.
What exactly do you want to accomplish through the instruction that you find? That will be a good guide as to what instruction you finally choose. Be sure to include your child in the discussion, informing them frankly about any budget limitations if necessary.
Tennis instruction for kids can be broken down into four primary categories: recreational programs, group lessons, semi-private lessons and private lessons. Let's take a look at the pros and cons of each:
Tennis Instruction For Kids in Recreational Programs

Recreational programs are often run by the local recreation department or as part of a summer day camp that wants to introduce kids to tennis. The head instructor is often a young adult player who wants a first experience at teaching; other programs use a high school coach, a parent, or, more rarely, a professional instructor.
Other staff members, if there are any, are usually people who have playing experience and believe themselves qualified to teach basic skills. The number of kids per court depends on the program's popularity, from two to twenty.
For many people, these types of rec programs can be a great way to introduce a child to the game, and can be a great source of tennis instruction for children. The part about little pressure is very attractive to many parents in a sport where "burnout" is often heard and demanding parents sometimes ruin the experience for Junior.
The advantages of using recreational programs for tennis instruction are:
Extremely low cost, usually between $0 and $3 per hour
Lots of buddies around, in most cases
Very informal with little to no pressure
Often emphasize fun and use a lot of large group games
Little or no commitment once the program is over
Often provide racquets
Now, for the weak points using recreational programs as tennis instruction for kids:
Little instructor time per student
Instructor may be of questionable skill level, no guarantees
Instructors may not be skilled teachers, encouragers or motivators
Little hitting time per hour
Lots of waiting time during drills
Little individual attention
Crowded conditions can get dangerous quickly if the instructor is not well trained
These weak points make rec programs a no-go for many, or as is often the case, an option that is used once to introduce the game, then stopped. The reason why many parents do not favor rec programs is because there is absolutely no guarantee that the instructor is a sound tennis player and/or a gifted teacher. There is a huge difference between a chipper and motivated professional and a bored college student who has no idea how to supervise children in a group setting. Rec programs can be great or almost disastrous.
That said, rec programs are a good option in most cases for youngsters who are completely new to the game. They also are a good choice for families who do not have tennis instruction in their budgets.
As for group lessons, they often are the most common format in tennis instruction for kids. These, too, can vary from small groups to large, with instruction being done by a trained professional or simply a skilled player who has achieved some distinction. Logically, the amount of hitting time and instruction will also vary according to group size. In most cases, kids will learn best from experienced and trained pros who have received some sort of tennis teaching accreditation. In other cases, very young children prefer younger instructors who make the group lessons more fun.
The advantages to group lessons are:
-Low cost, often $5-$10 per hour
Peers are involved in group settings
Smaller groups offer somewhat individualized attention
Well-organized lessons will keep children busy most of the time
Lessons can include both singles and doubles instruction
Usually low pressure and lively
What many parents like about group lessons is that they are almost always a step up from a rec program, yet they do not break the budget. The instructors are usually top-notch, especially if you go through a USTA-certified program or a local tennis club. Most of those clubs use their club pros, who do not stay employed for long if they are not good at what they do and are not enthusiastic about their jobs.
The disadvantages of group lessons are:
As group size increases, instructor time and attention per student decreases
If one group member needs extensive stroke repair, it often cannot be addressed
One-on-one hitting with the instructor is limited
Thus, small group lessons are best for kids who are looking to combine the fun of a group setting with getting better at the sport. Such players are still relatively new to the game and have not yet become tournament players or team competitors. As stated before, these types of lessons also are not budget-busters. They are a nice in-between option for players who are somewhat serious about the game, but not deadly serious.
Semi-private lessons also are an option when considering your choices for tennis instruction for kids. They are usually taught by an experienced professional and can work quite well if the two or three players taking the lesson share the same skill level. They blend individualized instruction with peer companionship quite nicely.
Among the strong points of semi-private lessons are:
The cost of private lessons is shared by 2-3 players and their parents
Kids have some peer contact during lessons
Individual attention is much greater in smaller groups
Activity will be almost constant
Hitting with a partner amplifies all tennis singles instruction
The weak points of semi-private lessons are:
Cost jumps to $12-$40 per hour
Major stroke work can still be tough to come by if needed
Younger children often like larger groups
If one child advances more quickly than the other, both can become frustrated
One-on-one hitting with the pro is still limited
Upside and Downside of These Tennis Instruction For Kids
Semi-private lessons can be a good form of tennis instruction for kids who want to learn quickly but like having a friend or two around, as well as kids who are good enough to hit consistently with a friend but not with a pro. As your child becomes involved in competitions, a semi-private lesson can be a good transitional choice for you, and they cut the cost of private lessons in half, at least.
Private lessons are almost always taught by seasoned professionals who do it exclusively for a living. That still does not mean that they all love what they are doing. Try to find a pro that is recommended by others in your community. That extra 10 minutes of driving that you might have to do can make all of the difference.
Among the advantages of private lessons are:
Players receive individualized attention
Improvement is quite rapid
Strokes are fixed through one-on-one lessons that are adapted to the player
Activity is non-stop during the lesson
Hitting with a pro is a thrill for most players and can be great fun
The disadvantages of private lessons are:
They can run as much as $80 per hour
Some kids want other kids around
Fun games are limited
Hitting with a peer does not occur
Tennis Instruction for Kids: Lessons with a Pro
Lessons with a pro in a one-on-one format are good forms of tennis instruction for children who want to improve as fast as possible, as well as kids who need major attention for one or more strokes. That is a benefit that is often not discussed when talking about tennis instruction for kids. A child can learn a stroke incorrectly early in his or her career and never get it fixed until s/he can spend time with a pro in a one-on-one setting.
Tennis Instruction for Kids – Using Private Tennis Lessons
Children who compete regularly in tournaments will almost always opt for private lessons, although some still mix in group lessons to be with friends. In seeking the best tennis instruction for kids, you will probably find that you will advance up this ladder of options as your child's skill level increases, assuming that she or he sticks with the game and makes it one of his or her passions. One day, your child might go from student to teacher and hopefully pass on the enthusiastic instruction that she or he received when she or he was just a young tyke.
Learn to Hit a Forehand Like Roger Federer
If you want to jumpstart your forehand and play like the PROS, check out my 70+ page Tennis Ebook that will immediately show you how you can take your forehand to the next level.
The Modern Forehand Domination Ebook is guaranteed to improve your tennis technique, and increase power, topspin and accuracy of your tennis forehand!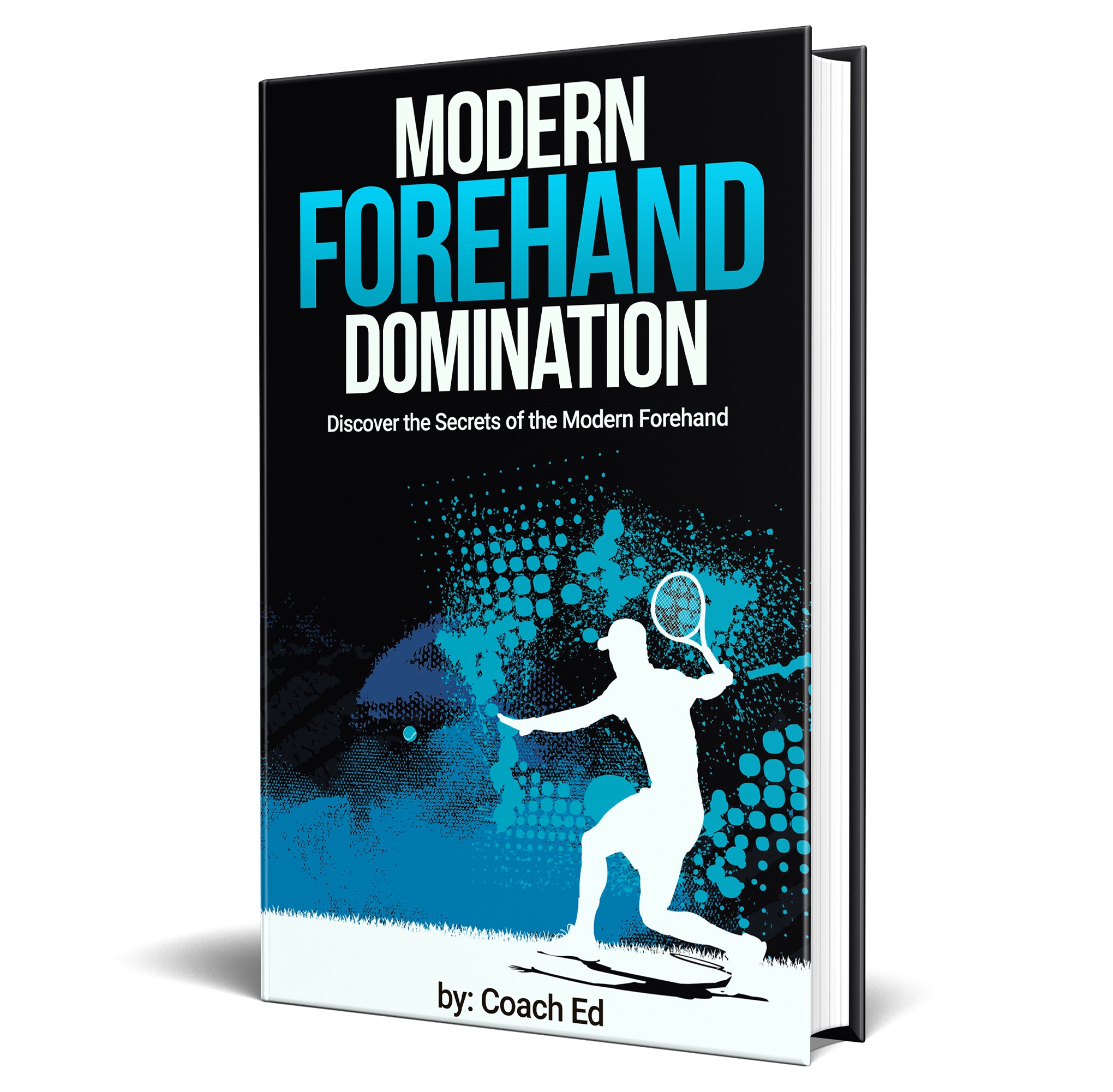 Modern Tennis Forehand Ebook
Learn How to Hit a Forehand Like Federer, Nadal and Djokovic