Tennis coaching tips give the students the necessary weapons and tools to win tennis matches. On one hand, professional tennis players also need coaches. They help professional tennis players on their game plans on how to defeat their opponents. This also gives some tips to tennis coaches on what to do to become a professional player coach.
Tennis coaching tips for young beginners
Tennis Coaching Tip #1 – Make it fun and enjoyable
Creating a fun and enjoyable environment is the most important of tennis coaching tips. It is very important to encourage young tennis players to get interested with tennis because they are the future of tennis sports. Tennis is considered as recreational sports for many, but to be able to encourage young kids to learn the sports is very important. This is for them to develop their skills and let them find out what they've got. Who knows, one of them might be the next Roger Federer or Serena Wiliams. To develop their interests in tennis, it is important to make the tennis classes fun and enjoyable. All coaches should try their best to keep the young players to voluntarily and happily come back to their tennis classes.
Tip #2 – Use modified tennis equipment
What is meant in this tennis coaching tip is that coaches should improvise or modify tennis equipment to create an environment favorable for the young students. Rackets, balls, net height or court dimensions can be modified to give advantage to young players learning to play tennis. To let them taste success even during their lessons will encourage them to work harder and play proper tennis.
Tip #3 – Markers
Markers are among tennis coaching tips for students to visualize the ideal target areas of the tennis court. Use cones to let the students know their targets on the court or where they have to be positioned. These will teach them on how to control their movements because they know exactly where they need to be. Markers of any type can be used to mark places or points where you want the students to stand or hit the ball.
Tip #4 – Correct court parts names
When coaches explain or do demonstrations to students, they should always use proper names of the tennis court. This will help the young players to know and remember all the important parts of the court.
Tip #5 – Action speaks louder than words.
Tennis terms can be technical and difficult for young players to comprehend. Thus, instead of explaining the drills or lessons first, demonstration should be done first followed by explanations. In addition, a young kid's attentiveness is normally short, thus long explanations will just be wasted. However, if the coach demonstrates the drills or lessons, they can learn easier. Again, same as in #4 tennis coaching tips, use the proper tennis terms when you do the demonstrations or explanations.
Tip #6 – Avoid being too technical
Many tennis terms can be too technical that young students may not understand them. Thus, this tennis coaching tips should be taken into account by all tennis coaches. Avoid the use of technical terms during demonstrations or when you're doing some explanations. Instead, every coach should use simples words like above or below and left or right. As the class progresses, coaches can start to use technical terms as the students start to grasp their meanings.
Tip #7 – Targets
This tennis coaching tips means that the coach should let the students have specific targets of what and where to hit the ball. It is common for young players to think that power and speed are the best assets in tennis sports. A good coach should be able to teach them how to control their power and speed. Tennis is a sport that needs speed and accuracy, thus for beginners it is advisable they learn how to control their movements first. Slow paced activities in the beginning can lead to more controlled movements in the end.
Tip #8 –Students age
This tennis coaching tips emphasize that coaches should not teach students at very young age. Reports stated that some professionals players like Andre Agassi started to learn tennis at the age of 3, but not all kids are like him. Kids at the age of 3-4 have very short attention spans which can be very difficult to coach. If you put yourself in this situation, you may lose interest in your job or you may end up hating it. Many coaches agree that the best stage for kids to start their tennis lessons is between 6 to 7 years of age.
Tip #9 – Keep each session interesting
This tennis coaching tips means that coaches should see to it that their students should have something new to look forward to every time they come to their class. This can be done by changing the lessons in terms of drill time or giving them new lessons or challenges every session. Make sure that the students feel that they improve every time they join the class.
Tip #10 – Modified game
After teaching the students all the fundamental tennis knowledge and techniques, the next step is to let them play the game. Since it is still impossible for these young players to do the actual tennis game, a modified game can be formulated.
Tennis coaching tips for coaching professional tennis players
Tip # 1 – Practical experience
Acquiring the needed experience to coach professional tennis players is the first tennis coaching tips that every aspiring tennis coaches should take into consideration. This means that every coach should have a complete knowledge on how to win tennis matches at the professional level. The best way to acquire this knowledge is to play professional tennis in a competitive manner. In other words, for you to coach professional tennis players, you have to be a professional player as well. This is the main reason why many retired professional players are very successful in their coaching career.
Tip # 2 – Coaching experience
You may be a former grand slam champion but it does not mean that you can automatically become a very good coach to professional players. That's because playing and coaching are two completely different things. One way to gain experience in coaching is to work side by side with an experienced professional tennis coach. To work with an experienced coach will enable you to learn the ways and means on how to teach players the right way on how to play tennis.
Tip # 3 – Certification
To be a certified coach means you have the credentials to teach or coach tennis. There should be a body or an organization that give this type of certification anywhere you are. Requirements may vary from country to country. Like for instance in the United States of America, they have two professional tennis coaches' organization that all professional tennis coaches should get a membership. A membership of either of the organizations is enough. The advantage of being a member in these organizations is they keep you updated of any valuable information in modern tennis. In addition, it will also allows you to gain contacts and be able to do networking with other people in your field.
Tip # 4 – Constant learning
Any type of sports evolves in their style, techniques and even rules. These changes are apparent in modern tennis. Modern tennis techniques and tactics of tennis have changed a lot in the recent years. What you learn can also be channeled down to your students, thus if you want to excel in your job, don't stop learning. This tennis coaching tip is very important especially if you aspire to coach professional players.
Learn to Hit a Forehand Like Roger Federer
If you want to jumpstart your forehand and play like the PROS, check out my 70+ page Tennis Ebook that will immediately show you how you can take your forehand to the next level.
The Modern Forehand Domination Ebook is guaranteed to improve your tennis technique, and increase power, topspin and accuracy of your tennis forehand!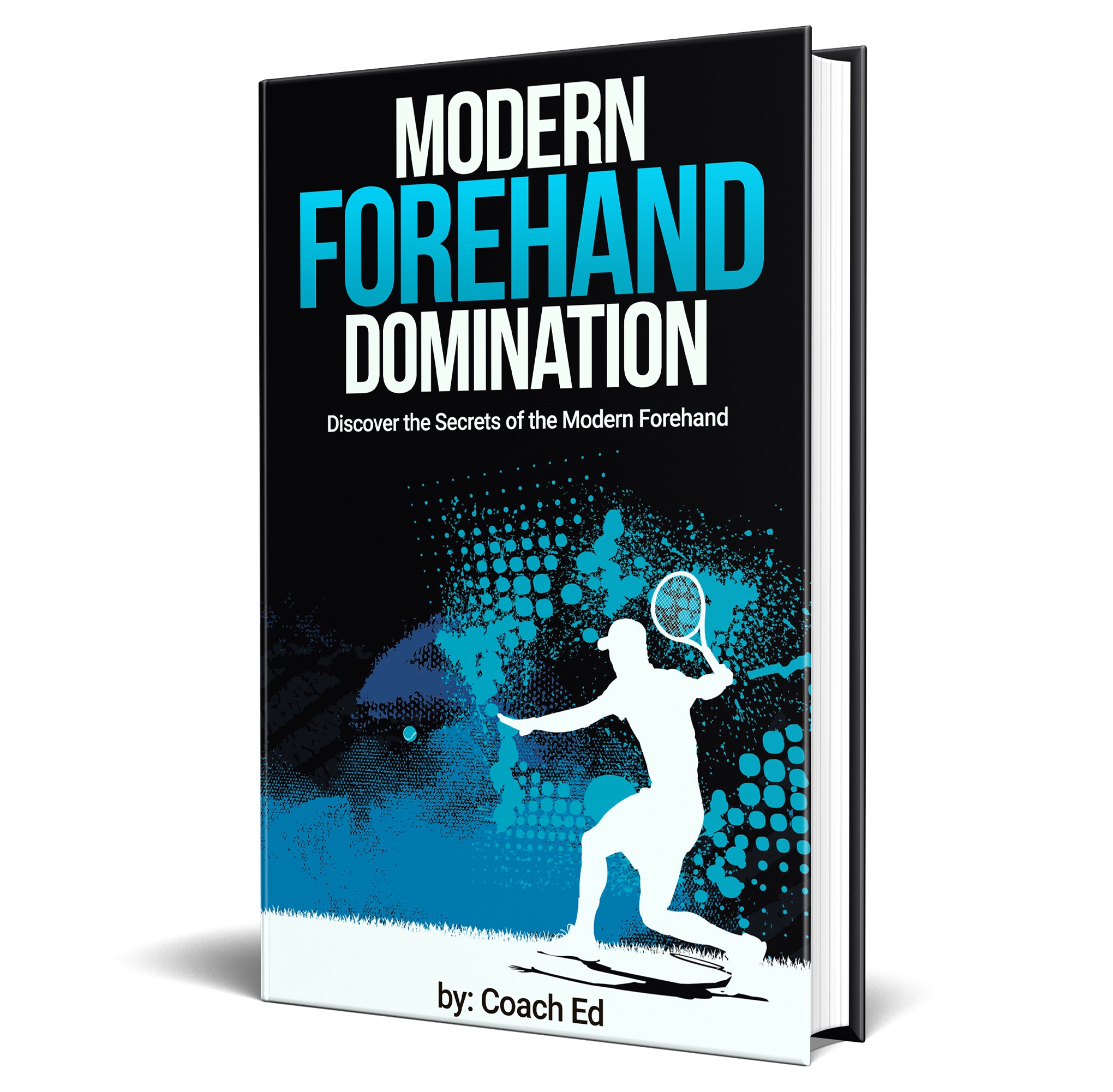 Modern Tennis Forehand Ebook
Learn How to Hit a Forehand Like Federer, Nadal and Djokovic