That debate has intensified as Roger has hit some rough sledding of late, first losing to Rafael Nadal on a fairly consistent basis, now encountering another formidable foe in Novak Djokovic.
The debate has shifted from Greatest Of All Time to Best In His Era, which it appears he might not be. This Federer analysis will explore this question as well as take a closer look at Federer's game.
At his peak, however, many analysts were ready to anoint Federer as the GOAT. The only proof that these experts needed was Federer's reign as the number 1 player in the world, which he held for a record 237 consecutive weeks from 2004-2007. During that incredible period, Federer won 11 major titles, totally dominating the men's field as no one had done before.
Federer Analysis – The Big Reason for Setting World Records
Federer's career accomplishments to this point bear noting: he is one of only three men to win a career Grand Slam on three different surfaces, he has appeared in an unprecedented 23 Grand Slam finals, including 18 of 19 between 2005-10. As of the 2011 U.S. Open, he had reached the quarter-finals of 30 consecutive Grand Slams, another record.
A Federer Game Analysis: The Best Player of All Time?
These numbers not only show Federer's excellence, they are a tribute to his endurance and amazing fitness. Several players have the talent to reach 30 consecutive Grand Slam quarter-finals, but all of them other than Federer have to sit out a tournament or two due to injury, or injure themselves while playing in one of these high-pressure draws. Federer alone has remained supremely consistent in the Grand Slams, and he has a host of other tournament titles to his name, 70 in total.
Roger Federer Analysis – Character and Persona
Beyond even the numbers and a recognition of Federer's sublime fitness, any Federer analysis must also discuss the man himself and his game. Roger Federer has had all of the qualities that sportsmen treasure in a champion: he is humble, gracious, tenacious, kind, caring, competitive and an extremely hard worker.
In victory, he does not gloat. In defeat, he makes no excuses, crediting his conquerors. Off the court, he is a family man who gives time and money to numerous charities.
In short, he is the anti-type to the tennis brat that seemed to dominate the men's scene for so many years. This well-developed character is probably why many tennis writers have been inclined to anoint Federer as the GOAT, and it is an essential part of any Federer analysis. Who Federer is as a person comes through when he is on the court.
A Federer Analysis of His On Court Prowess
On a tennis court, Federer is a little like a fairy, seemingly gliding all over the terrain and hitting any number of shots with consistency and beauty. Federer's forehand is smooth and vicious, especially when he angles it.
His backhand might be the most beautiful on the men's tour, full of one-handed purity and exquisite follow-through. His serve is deceptively fast and tricky, full of spins and pace. His volley is solid when activated. Federer has no perceptible holes in his game, another reason why people call him the GOAT.
That lack of holes is evident when you look at is record on all surfaces. Unlike most top players, Federer does not have a surface that is his bugaboo, like Pete Sampras and other great champions, the one major that constantly eluded him due to his inflexible game.
To prove this, Federer has gone out and won 6 Wimbledons, 5 U.S. Opens, 4 Australian Opens and 1 French Open.
He would have won several more tournaments at Roland Garros were it not for the emergence of Rafael Nadal, his primary nemesis to this point, having defeated Federer four times in the finals of that spectacular tournament. Any Federer analysis needs to include the name of Nadal; he is a central character in the Federer story.
A Roger Federer Analysis of His Remarkable Achievements
Yet, somehow, even those defeats burnished the Federer legend, making him appear more human and testing his graciousness in defeat, which he never lost. Nadal, for his part, demonstrated abundant cordiality in victory, refusing to compare himself with Federer as a champion and always deferring to his idol.
During his reign on top of the world, Federer grew tennis as a sport as millions of fans worldwide admired him for the versatility and splendor of his game and the attractiveness of his character off the court.
As for his ability to win on all surfaces, former champion Jimmy Connors summarized it well: "In an era of specialists, you're either a clay court specialist, a grass court specialist, or a hard court specialist…or you're Roger Federer." Federer is able to gain victories on grass, clay and hard courts because of his speed and exception shot-making ability.
Federer stays on the baseline for the most part but shows no discomfort at the net. He is known as one of the best volleyers on the tour. Federer does not need to venture to the net often because his forehand is so lethal. Tennis commentator and former champion John McEnroe called the Federer forehand "the greatest shot in our sport."
Federer Forehand Analysis
That forehand comes in several varieties as Federer often runs around his backhand, thanks to his exceptional quickness, and hits either an inside-out forehand or pulls one down the line. That inside-out forehand is a wicked shot, aimed at most players' backhands when they are expecting a shot down the line to their forehand, the more natural motion. Many players, pro and amateur alike, have sought to imitate this inside-out forehand due to Federer's success with it.
Federer Backhand Analysis
As for the Federer backhand, his ability to hit the ball with lots of pace and just one hand greatly increases his options. His slice is called the best in the game, and he uses it often to lure players to the net, where he then slaps a passing shot by them.
His topspin backhand also gives opponents fits and is beautiful to watch on the follow-through. Federer also is known for his "flick" backhand that he powers across the net using only heavy wrist action, usually on passing shots.
Federer Serve Analysis
The Federer serve draws praise for its routine consistency and its deceptiveness. With the same toss each time, Federer makes it impossible for his opponents to read what is coming. As he coils his back and turns it to his opponent, the receiver has no idea what type of serve is coming nor where it will be placed.
As many champions do, Federer often produces his best serves at key moments, as if he were saving speed for the right occasion. At these times, his serve rises about 10 mph, from 125 to 135, stunning his opponent with the occasional ace when he needs one.
Roger Federer Analysis of The Rest of His Game
Other famed strokes that should be mentioned in a Federer analysis are his half-volley from the baseline, his well-disguised drop shot off either side and even his between-the-legs shot that he uses to get lobs. Federer not only reaches these shots and hits them solidly between his legs, he adds another element by aiming such shots, which is nearly impossible. He used a "tweener" to get to match point against Novak Djokovic in the semifinals of the 2009 U.S. Open. Imagine the discouragement of hitting a lob that you think is a winner, only to see it zing by you as a tweener, aimed so well that it passes you at the net. Stunning, just like Federer's overall game.
The sole question about Federer's greatness is the trajectory of his career now. He has appeared in just one Grand Slam final in each of the years 2010 and 2011, winning Australia and losing in Paris. There are questions about Federer's focus as his twin children grow and he confesses his deep love for his family and fatigue with the demands of the professional tour.
Roger Federer – The Greatest of All Time?
Add that element to the fearsome games of Nadal and Djokovic and you have a perfect recipe for quick decline. What keeps tennis fans interested, however, and Federer backers ready to make yet another case for GOAT, is the question of whether the old lion can summon one last great run to humble his new rivals.
Can Roger Federer pick up the intensity or skill of his game to a level that will again surpass all of the other men's players?
With a 9-17 record against Nadal and a 14-10 record against Djokovic, this new "trivalry" will bear watching over the next year or two.
Either Federer will summon even more resources to the battle or he will fade from the tennis hierarchy as Nadal and Djokovic fight for the throne. Will they have the durability of Federer at the top? That remains to be seen. As this Federer analysis has demonstrated, if they can't endure as all-court champions, then the argument for Roger Federer as the GOAT will remain strong.
Learn to Hit a Forehand Like Roger Federer
If you want to jumpstart your forehand and play like the PROS, check out my 70+ page Tennis Ebook that will immediately show you how you can take your forehand to the next level.
The Modern Forehand Domination Ebook is guaranteed to improve your tennis technique, and increase power, topspin and accuracy of your tennis forehand!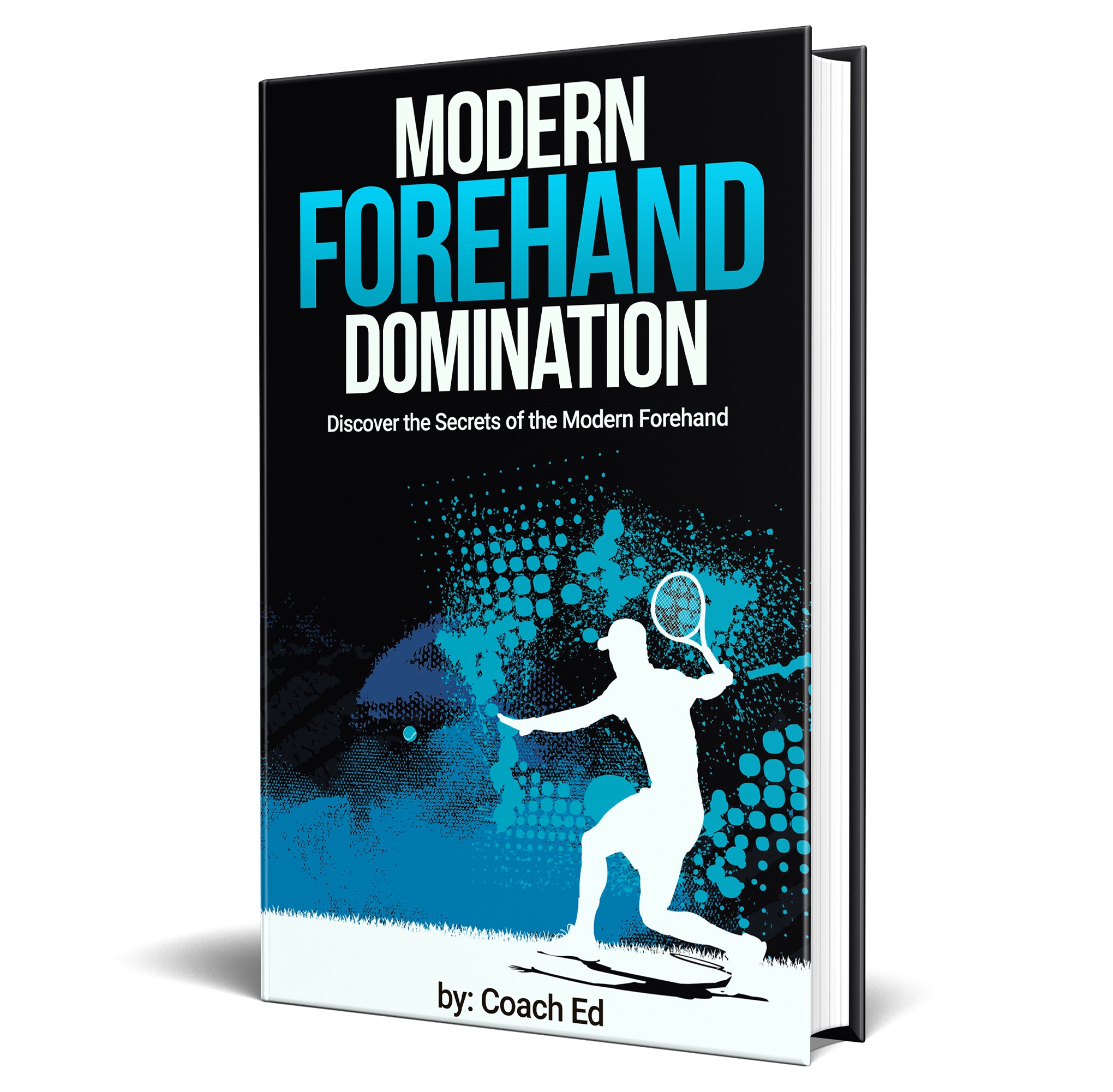 Modern Tennis Forehand Ebook
Learn How to Hit a Forehand Like Federer, Nadal and Djokovic