The question we should ask ourselves is, "How did a player move from having a reputation for flaming out when things got hot to an icy cool competitor who is toughest in the tightest moments?"
How did a player transform himself from a guy who often pulled out of tournaments early to someone who has won several tense finals? How did Novak Djokovic change from a man who found a variety of physical excuses for discontinuing closely contested matches to a man who is in perhaps the best shape on the tour?
Before The New Novak Djokovic Training Program
Djokovic, ironically, used to be the butt of other players' jokes, known as much for his imitations of other players as for finding one reason or another to withdraw from several high-profile matches—a semifinal match at Wimbledon in 2008, a quarterfinal match at the Australian Open in 2009, a quarterfinal match in the Serbia Open in 2010—as well as several long injury breaks during the 2009 U.S. Open that drew criticism from other players, most notably Andy Roddick.
Throughout the early years of Djokovic's career he often attributed poor tournament showings to a variety of health issues. Now, he is on top of the world and looks to be super fit. What happened?
A lot of it must have to do with the famed Djokovic training, but how much is not entirely clear. Certainly he has achieved a higher level of fitness that has enabled him to stay on the court for 4-5 hours throughout the demanding draws of a Grand Slam tournament. He not only has stayed on the court, of course, he has prospered there, most recently winning the U.S. Open in September 2011 by whipping Rafael Nadal in four sets and taking three of the four Grand Slams during that year.
Something remarkable has happened. Is it the Djokovic training routine?
Novak Djokovic Training: The Tennis Diet
One aspect of the Djokovic training regimen has been the much-publicized removal of all gluten from his diet. This adjustment to his food intake has been credited with his much higher level of stamina both during matches and throughout long tournaments. Djokovic has become a sort of poster boy for the gluten-free diet and probably sent many athletes to the local allergist to determine if they, too, had allergies to glutens.
In July 2010, Djokovic added nutritionist Igo Cetojevic to his team, which might have been his best move ever on or off the court. Cetojevic soon discovered that Djokovic suffered from Celiac Disease and thus could not eat gluten.
With this substance banned from his diet, Djokovic immediately turned into a more vibrant player with amazing court coverage and energy. His record from that time speaks volumes.
Soon after this dietary adjustment, Djokovic reached the U.S. Open Finals, beating Roger Federer in the semi-finals for the first time in New York, then losing a four-set match to Rafael Nadal, but the best was yet to come. Starting with a couple of wins in Serbia's Davis Cup tie with France, which gave his country its first-ever Davis Cup title, Djokovic began a winning streak that would stretch long into 2011, not losing a match for nearly six months, an incredible streak that will not be matched anytime soon by another player.
Novak Djkovic's Training Responsible for 2011 Tennis Results?
In 2011 Djokovic stunned the tennis world, failing to lose for almost half the year and nabbing three Grand Slam championships, only the sixth men's player in history to do so. Despite a back injury that hurt his performance towards the end of the year, he compiled a 70-6 record and finished at the number 1 ranking for the first time in his career. His record in the Grand Slam tournaments was a stunning 25-1. He captured 10 tournament titles and a record $11 million on the ATP tour.
Clearly, he was a new man and a force to be reckoned with on the pro tour, perhaps silencing all of the Federer-Nadal rivalry talk once and for all and announcing himself as the new sheriff in town.
Novak Djokovic Training with Maria Sharapova
Yet, the question persists: how much of this explosion on the world scene can be attributed to a new Djokovic training regimen? The answer is still elusive.
Djokovic Training: Using The Fitness Pod
One aspect of his training that received widespread publicity was his reported frequent use of a fitness pod to boost his blood circulation. Apparently, Djokovic spent much of his down time during 2011 in a rare, $75,000 egg-shaped pressure chamber about the size of a bobsled (glad that Novak does not suffer from claustrophobia!).
The pod, manufactured by CVAS, helps to simulate vigorous exercise and adds oxygen-rich blood cells to the body while expelling lactic acid.
Thus, it's as if Djokovic can play an exhausting match without ever having to go onto the court, helping his fitness level and recovery time for when he does actually engage in a tennis war.
The key to the pod's success is that it simulates high altitude training as it compresses muscles with a vacuum pump and computer-controlled valves, making it far superior to the ballyhooed hyperbaric chambers that many athletes have favored in recent years. The conditions in the pod can be adjusted by athletes to simulate just about any training that s/he desires.
It can help the body to absorb oxygen twice as well as even blood doping, an amazing feat and a legal one. Whether such pods will continue to be allowed within the rules remains to be seen. In yet another example of sport testing trying to keep up with technological advances, the ATP has not determined whether the pod should be ruled out of bounds for its players.
Thus, a major part of the Djokovic training routine is actually spent in a casual position within a pod. Welcome to sport in the 21st Century!
Aspects of the Novak Djokovic Training Program
As for Djokovic's training routine on the court as he trains for a match, here are a few insights:
Djokovic spends a lot of time on the court before big matches, not engaging in casual hit-arounds but drilling to the point of exhaustion with a variety of repetitions, followed by informal match play. The intensity of Djokovic's training bears mention.
Djokovic calls for many drills that force him to use his backhand, which some call the best backhand in the world. Djokovic works especially hard on his one-handed slice, which requires him to let go of his racquet with his left hand, something he is not accustomed to doing on the backhand side. Djokovic will work on several minutes simply perfecting that slice and he uses it to great effect in matches.
Novak Djokovic's training involves the use of elastic bands
Djokovic also does drills that force him to sprint across the court and increase his flexibility. There are not many players who nearly do the splits routinely during a match as they shift directions, fewer still who dart around that quickly during normal training. The Djokovic training routine includes several court coverage drills that text his quickness to the maximum.
A famed part of the Novak Djokovic training regimen also called for extensive work on his serving motion, but once he began to double fault at a high rate, he immediately fired the coach who tweaked his motion, in this case Todd Martin. Djokovic now works only a few minutes on his serve; he appears to be through with tinkering with it. His results indicate that he does not need to make any more changes to it.
Novak Djokovic's training program: A key to his success?
Djokovic, in addition to his use of the magic pod, has also been known to retreat to areas of high altitude to train before matches. He favors this type of work more than many other players. Once he can run for long distances and play extended matches at altitude, playing at sea level is a breeze for him, and he looks like it.
These insights into the Djokovic training program explain partially why this young player has vaulted from number 4 to number 1 in such a short time frame and become the most dominant player on the tour. Djokovic adds a couple of elements that other players do not, namely the use of the fitness pod, a gluten-free diet and frequent training at altitude. The only of those three that might be practical for the average club player would be a trip to the allergist if you are feeling sluggish while playing. Who knows? Perhaps you will be found to have allergies to gluten and your new diet will lead to more wins than you could ever imagine.
Learn to Hit a Forehand Like Roger Federer
If you want to jumpstart your forehand and play like the PROS, check out my 70+ page Tennis Ebook that will immediately show you how you can take your forehand to the next level.
The Modern Forehand Domination Ebook is guaranteed to improve your tennis technique, and increase power, topspin and accuracy of your tennis forehand!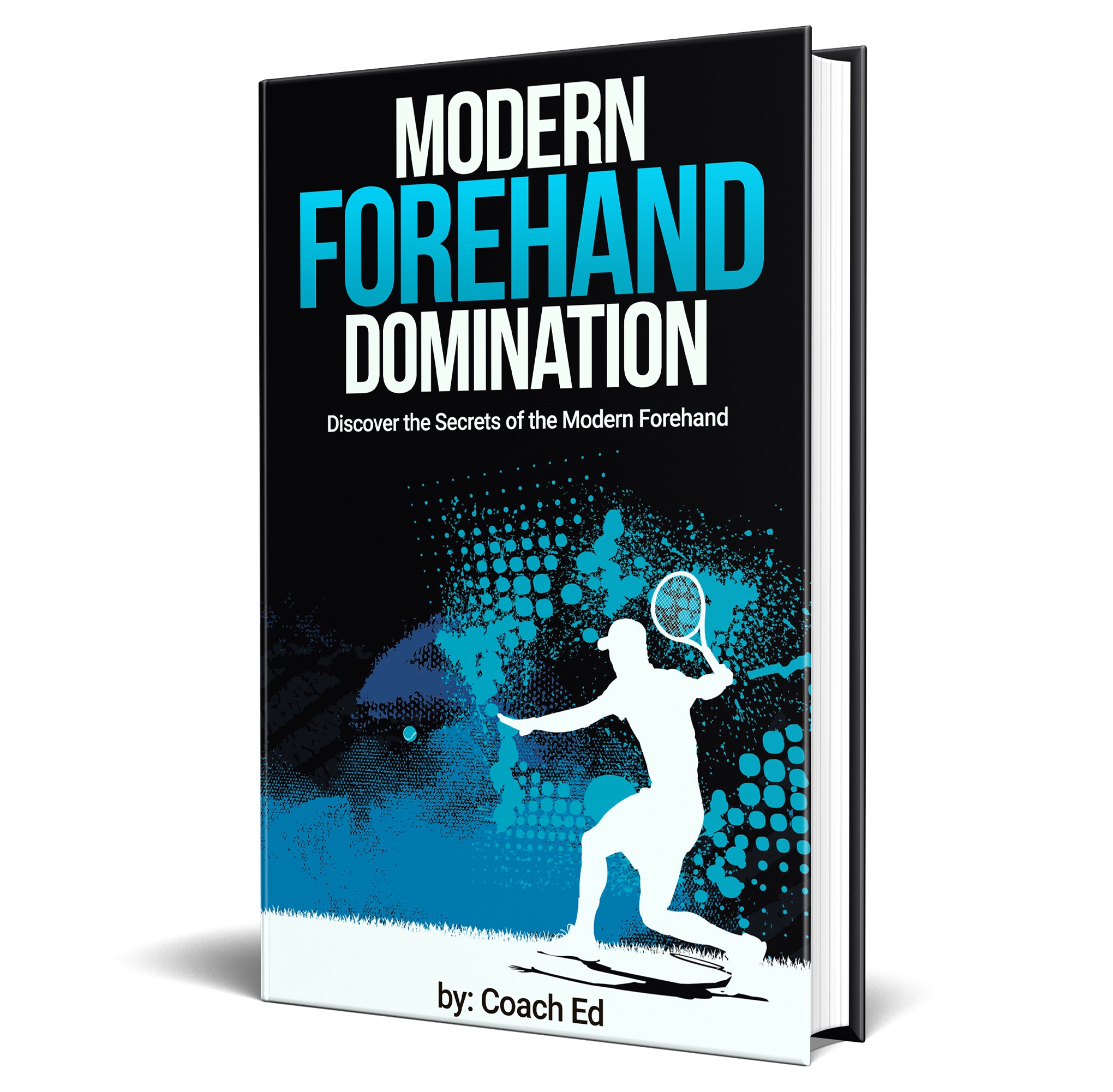 Modern Tennis Forehand Ebook
Learn How to Hit a Forehand Like Federer, Nadal and Djokovic