Maria Sharapova's forehand has been known to be at the top of women's professional tennis despite her early retirement from the game.
When learning the Maria Sharapova forehand, what are the aspects of the stroke that we can identify and understand? This article will discuss the Sharapova forehand technique as well as Maria's background.
Maria Sharapova was 7 years old when she was spotted in Moscow by tennis legend Martina Navratilova. Soon after, she went to the United States with her father to train at the Nick Bollettieri Tennis Academy. Bollettieri and Navratilova both spotted her precocious talent for the game.
Not only was she tall and strong for her age, she also displayed a keen ability to concentrate and compete at a high level for a prolonged period of time. She showed excellent work ethic and had a very high level of motivation from day 1.
Above all of these, Sharapova showed she could absolutely whack the ball. She hit all of her shots with maximum power.
When she first turned pro at 14, veterans like Monica Seles immediately noted how hard she struck the ball from both sides. The power of the Sharapova forehand and backhand was comparable to some of the biggest hitters of the game. By 2004, at the age of 17, she had already won her first grand slam title at Wimbledon, defeating Serena Williams, who had won the tournament in the two previous years.
That she won in straight sets was even more impressive. She had also beaten Lindsay Davenport on the way to the finals. Notably, Williams and Davenport remain two of the most powerful players ever seen on the women's tour. Somehow, Maria was able to stand up to them, go toe to toe and beat them at their own power games.
Maria Sharapova's Forehand in Winning Wimbledon
During her run to the Wimbledon title, the Sharapova forehand proved to be one of her biggest weapons. She could hit it early, hard and deep to any corner as well as hit sharp angles. She also frequently took the ball out of the air and hit huge drive volleys. However, there were patches when her timing and rhythm from that side came and went.
Maria Sharapova's forehand technique wasn't as solid as it should be. Fortunately, her backhand was just as powerful and also a little steadier. She had a more mechanically correct stroke from that side. More importantly, her serve was clicking throughout the tournament.
Maria Sharapova's Forehand: Technique
The Sharapova forehand during that time was hit more often from an open stance and followed through over the shoulder on the same side of her hitting arm. She transferred her weight into the shot but didn't maintain perfect balance, causing her to look like she was falling sideward and backward when she finished. But because she was so aggressive with that side so that even if her mechanics weren't perfect, the resulting shot was enough to cause a lot of damage.
It took her more than 2 years before she was able to follow up on her maiden grand slam triumph. In the events that followed her initial big win, she kept stalling in the semi-finals and sometimes even earlier. More resourceful players like Justine Henin and Amelie Mauresmo as well as the Williams sisters all learned how to break down her game.
Maria Sharapova's Forehand: In Winning the US Open
They would hit with relentless power to her forehand side or keep mixing up the spin, pace and depth to force her off balance and disrupt her timing.
But she always worked hard and kept improving. Finally, in 2006, at the US Open, the new and improved Sharapova forehand was at the forefront of her straight sets demolition of the crafty and formidable Henin.
This time, she was hitting more from a closed stance and maintaining better balance.
She was also following through less often over the same shoulder but more frequently over her left shoulder. This meant that she was hitting through the ball and controlling it better.
Unfortunately, her career was beset by injuries in the ensuing years. Crucially, her main injury occurred in her right shoulder, ruining her serve and affecting even her forehand. Although she was able to briefly regain her health to dominate the field at the 2008 Australian Open for her third major title, she reinjured her shoulder and her results took a nosedive. Mostly it was her serve that was affected, but since it was the foundation of her game, everything else was affected including her forehand.
There was even a time when she had an injury to her pectoral muscle, thereby directly affecting her ability to hit forehands. It was only recently when she started showing signs of regaining her championship form. She reached the semi-finals of the 2011 French Open and was runner up at Wimbledon a month later. Her serve still isn't what it used to be. But her groundstrokes, especially her forehand are slowly but surely getting back to the level that brought her three major titles.
Sharapova's Forehand: The Rebirth
The Sharapova forehand is now back to being a big weapon and can only get even better as she gains more confidence with the improved results she has been putting up. Her current technique is broken down as follows, with some notes on the improvements she has made since her debut on tour:
Maria Sharapova's Forehand Preparation
Maria Sharapova waits in the proper ready position, with feet spaced comfortably apart, knees bent and weight distributed evenly on the balls of both feet. As soon as she realizes that the ball is coming over to her forehand, she turns her shoulders completely and takes the racket back high by guiding it with her left hand. This high take back will enable her to build up a lot of racket head speed.
Maria Sharapova begins to set up her forehand by adjusting her feet to get in proper position. In the past, she sometimes didn't move her feet as well and as quickly. She now more often puts her left foot in front, while loading the weight up on her right foot. This will ensure better weight transfer and balance throughout the stroke. She focuses on the ball and keeps her head down until after contact.
Maria Sharapova's Forehand: Non Dominant Arm
Her left hand straightens out to track the ball, helping her maintain a consistent point of contact in front of her body. As the ball approaches, she unleashes her forward swing, bringing the racket down from her high take back in a looping motion. Her elbow is a good distance from her torso, giving her more leverage. It remains bent and relaxed. As it drops lower her elbow comes a little closer to her torso. At this point, her weight starts to shift over to her front foot.
Maria Sharapova's Forehand Downswing
After dropping the racket below the level of the ball, she hits it by swinging upward and forward through it. Her upper body uncoils at this point and her weight transfers completely to her front feet. Her back foot will often come off the ground because of this. In the past, because she more often hit from an open stance, she seemed on the verge of losing balance because of her weight transfer. She didn't use her feet as well as she does now.
Sharapova's Forehand Follow through Variations
There are actually two versions of the Sharapova forehand. The first is the reverse forehand where she swings steeply upward and follows through over her right shoulder. This produces heavy topspin but she compensates by stepping forward to get through the ball. She hit this much more often during the early part of her career and was susceptible to timing and balance issues.
The way she stepped forward was jerky and disjointed. When she is rushed, she still often hits this open stance reverse forehand. Li Na and Petra Kvitova, who were her conquerors at the last two grand slam events she contested frequently rushed her on her forehand and forced errors because she had to revert to this technique.
Presently, she uses the more conventional follow through where she goes through the ball and finishes over her left shoulder. This allows her to maintain balance while still transferring weight fully into the shot. It also makes her recover more quickly for the next shot.
Learn to Hit a Forehand Like Roger Federer
If you want to jumpstart your forehand and play like the PROS, check out my 70+ page Tennis Ebook that will immediately show you how you can take your forehand to the next level.
The Modern Forehand Domination Ebook is guaranteed to improve your tennis technique, and increase power, topspin and accuracy of your tennis forehand!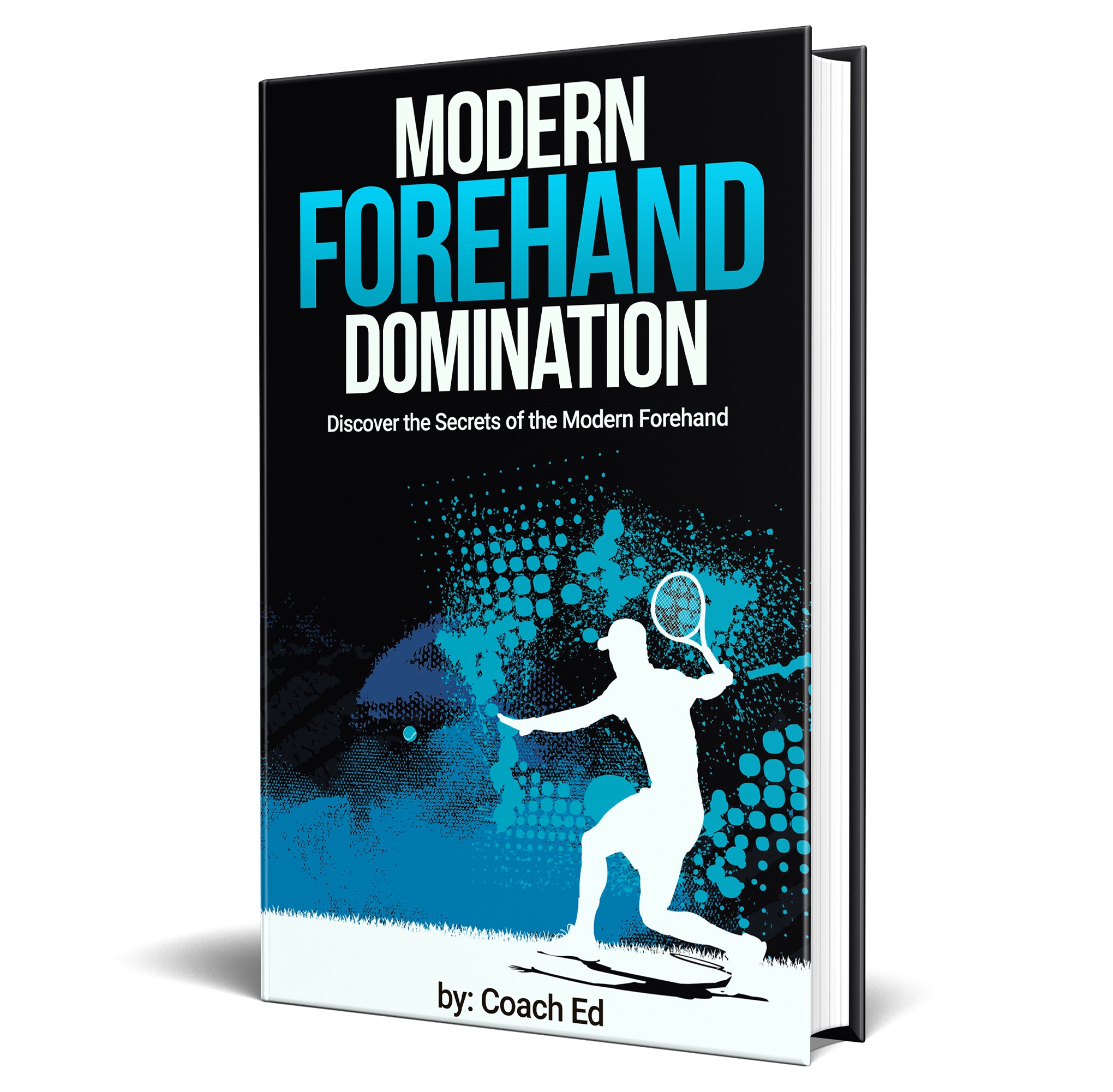 Modern Tennis Forehand Ebook
Learn How to Hit a Forehand Like Federer, Nadal and Djokovic