In the late 90's, the women's game was fast shifting into a powerful baseline blasting contest with big, strong players like the Williams sisters and Lindsay Davenport leading the way. These "big babes" were pummelling the ball so hard with their forehands and two-fisted backhands that the more modestly-sized players were simply outhit.
The Rise of Justine Henin's Backhand
Despite several seasons of brilliance by the crafty and average-sized Martina Hingis, most people agreed that she would be the last of her kind.
Meanwhile, an even smaller and slighter built player from Belgium graduated from the junior ranks and started making waves on the pro tour.
More surprisingly, she was using a one-handed backhand, and she was hitting it just about as hard as anyone who had a double-hander. Her name was Justine Henin.
The Justine Henin backhand quickly became a much-admired shot by observers like commentators, fans and even her fellow pros. Her technique was so good that despite her limitations in size and strength, she could produce heavy shots off that side. She also showed amazing variety, with her ability to hit slices, drop shots, angles and lobs.
Most people believed that anyone who wielded a one-handed backhand was weaker from that side. She was definitely the exception to that rule.
Justine Henin Hardenne's Backhand: Her Career
It took a few years before Henin reached the top 10 in the rankings and announced herself as a grand slam title contender. Her game needed to develop and become more solid. Her forehand was strong but her technique broke down when she was rushed.
Her serve also needed to be faster and have more variety. She had good technique but her lack of height and physical strength inhibited her from hitting it as hard as her bigger contemporaries.
She was a competent volleyer but she needed her ground game to be stronger in order to set up her net game. She was fast and agile, but the physical toll of trying to hit hard and run down her opponent's shots sometimes became too much and as such, she suffered frequently from injuries. She therefore needed to be physically more robust.
Mentally, she also needed to be tougheras she suffered from nervousness when trying to close out matches.
But the Justine Henin backhand was a great starting point on which to build a game that could challenge the top players and ultimately triumph over them. This exceptional shot featured tremendous disguise and early preparation. She used a strong eastern (sometimes called the semi-western grip).
Justine Henin Backhand Technique
She turned her whole body sideways into a closed stance and coiled her shoulders and hips, using the left hand on the throat of the racket to guide it back. She took the racket head up to head level and focused on the ball, head motionless.
Justine's feet are always comfortably apart providing good balance, with the weight on her back foot and her knees bent according to how high or low the ball is coming at her.
Justine Henin Backhand: Downswing
As the ball approached her, she began to drop the racket head below its level. Her left hand started to release the racket at this point and she began to transfer her weight to her front foot. With her head still motionless, her forward swing now began to unleash. Her arm extended outward to make contact with the ball in front of her.
Justine Henin Backhand: Non Dominant Hand
Justine Henin Hardenne's left hand stayed back to act as a counterbalance. She hit hard through the ball while the racket head remained at a 90 degree angle with respect to her forearm. Only after contact did the shoulder rotate and bring the racket head up to vertical. Justine Henin usually put topspin on her backhand, so her extension and external shoulder rotation was quite exaggerated. Her follow through was long and her weight transfer complete but she remained in perfect balance and quickly recovered back to the ready position.
The Henin Backhand and It's Rise to the Top of Women's Tennis
With such an exquisite technique, John McEnroe proclaimed in 2001 that the Justine Henin backhand was the best in all of tennis – men's or women's. Only 19 then, Henin reached the semi-finals of the French Open and the finals at Wimbledon. She was now definitely headed in the right direction for achieving greatness.
In 2003, she upset Serena Williams at the French Open semi-finals and in doing so, established what would become a long and often acrimonious rivalry with the American. Henin went on to win her first grand slam title by beating Kim Clijsters, another player whom she would often play against in the biggest stages of tennis. Her rivalries with these two players were marked by a significant contrast in styles.
The one-handed Justine Henin backhand more than held its own against the dangerous double handers of Williams and Clijsters. More importantly, her serve and forehand were no longer liabilities, so she could go on and play her stylishly aggressive, free-flowing game even against such powerful shot makers. Henin finished that year ranked number one.
Justine Henin's Backhand – A versatile stroke
The Justine Henin backhand was a tremendous defensive shot as well. She could disguise lobs by simply waiting until the last moment to steeply swing upward and create massive topspin and arc. She did not use her wrist but rather kept the similar mechanics as on her regular topspin backhand, only changing the direction of the swing (more upward instead of forward). She could also change the pace with slices and drop shots.
Henin Backhand – Backswing
She shifted to the continental grip for these shots and took the racket back high. With the same closed stance and complete coil of the hips and shoulders as her topspin, she knifed through the ball, coming from high to low.
Her long follow through and weight transfer resulted in a deep, low and biting slice. On drop shots, she had a more abrupt and delicate high-to-low motion and a generally shorter follow through with less weight transfer.
Justine Henin Backhand in Winning Grand Slams
2006 was another banner year for Henin as she reached the finals in all four grand slam events. But she won only one of those finals as other players started figuring out a way to handcuff her elaborate style. The similarly talented Frenchwoman Amelie Mauresmo, a fellow exponent of the single-handed backhand, beat her in two of those finals with an aggressive net-rushing game. Henin sought out to add even more elements to her game.
For 2007, the Justine Henin backhand now featured more judicious use of the slice as an approach shot and not just as a rally shot or change-of-pace tactic. Although she missed the beginning of the year with some personal problems, she went on to dominate the rest of the way, posting a 63-4 win-loss record and winning 10 tournaments including her fourth French Open and second US Open.
It was clearly her best season ever.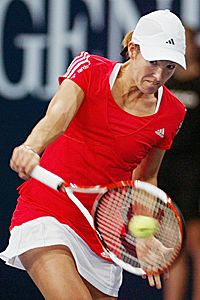 Regrettably, the effort she spent for that year left her burned out and suffering from niggling injuries. By the spring of 2008, she had decided to retire. As people began to lament never being able to see the graceful Justine Henin backhand anymore, the women's tour was thrown into total chaos.
Players with no grand slam titles got to number one and those who were able to win them suffered too many injuries and distractions to maintain a consistent ranking. In late 2009, Henin announced she would come back.
She promptly reached the Australian Open final in 2010, losing to old rival Serena Williams.
Then, at Wimbledon, against another old rival in Kim Clijsters, she fell and hurt her right elbow. It was a precarious injury that would later lead to her decision to retire permanently from the tour in January 2011. The elbow, after all, is a critical joint for the one-handed backhand. She said it was final this time, but since she's changed her mind before, there may yet still be hope to once again witness the graceful and powerful Justine Henin backhand wielded on the courts.
Learn to Hit a Forehand Like Roger Federer
If you want to jumpstart your forehand and play like the PROS, check out my 70+ page Tennis Ebook that will immediately show you how you can take your forehand to the next level.
The Modern Forehand Domination Ebook is guaranteed to improve your tennis technique, and increase power, topspin and accuracy of your tennis forehand!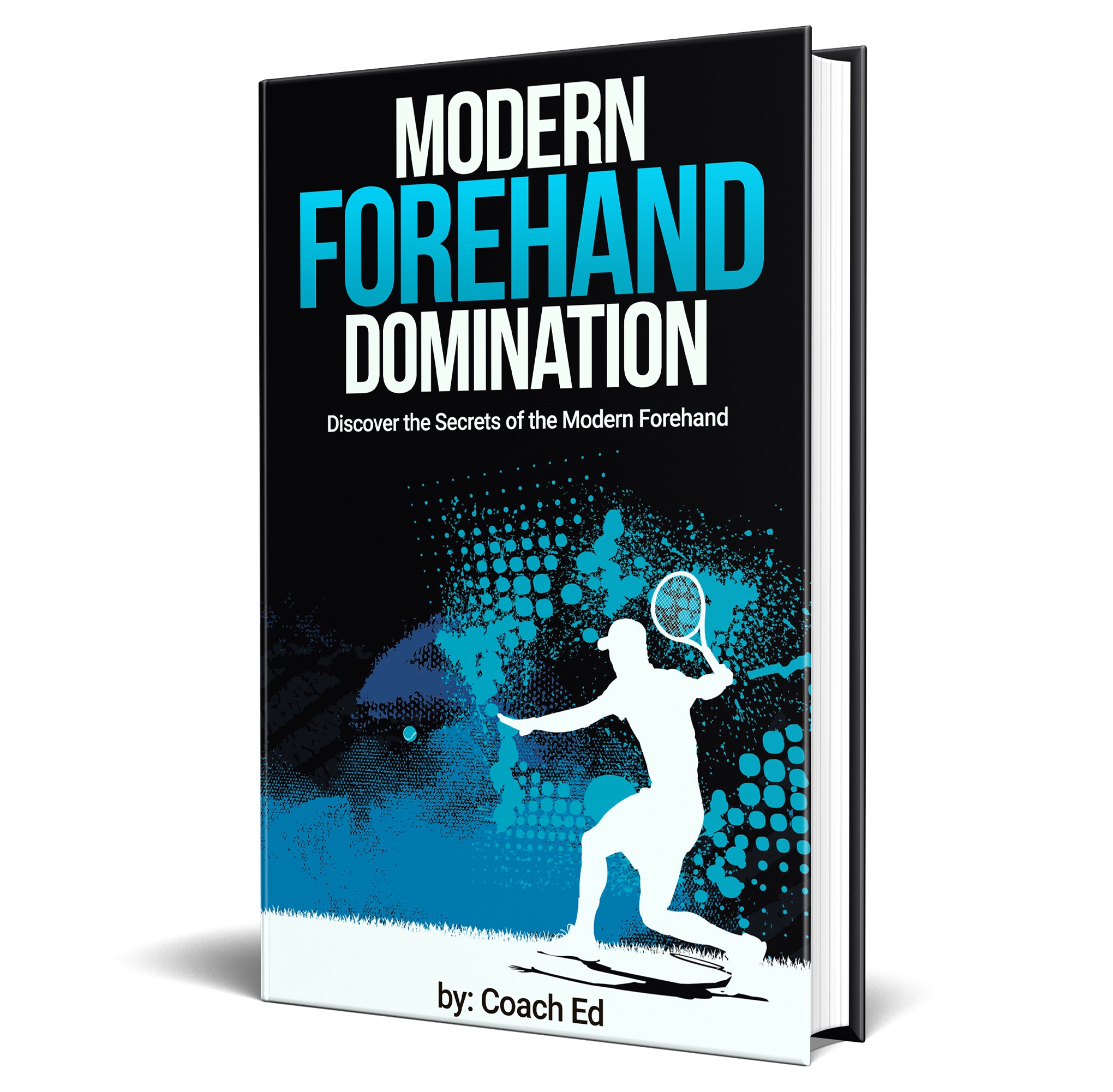 Modern Tennis Forehand Ebook
Learn How to Hit a Forehand Like Federer, Nadal and Djokovic