A lot of tennis players are club players that are content on playing tennis for the physical exercise and enjoyment. This is the category to where most tennis players around the world fall into.
However, there are a small group of tennis players that spend everyday trying to discover how to be a better tennis player. These individuals include professional tennis players, college tennis players and aspiring elite junior tennis players that spend hours every single day in hopes to succeed in their goal of finding out how to be a better tennis player.
For tennis players that want to know how to be a better tennis player, there is no magic formula or secret method to become a world class tennis player. Instead, it is made of a combination of hard work, proper training routines and development of talent.
Where most tennis players fall short in their goal of how to be a better tennis player is their mindset, work ethic and expectation. It is human nature to rush and try to get somewhere with the least amount of effort. For a sport like tennis, there are no shortcuts to success and only the most talented players with the strongest work ethic will prevail in the arena of professional tennis.
How to Be a Better Tennis Player: Understanding the NTRP Rating System
Whether you play recreationally or competitively, at the club level or at the professional level, knowing how to be a better tennis player requires careful analysis of your current level and a clear identification of your goals as a tennis player. The United States Tennis Association has a detailed rating system called the National Tennis Rating Program.
This system assigns a numerical value from 1.0-7.0 based on the player's skill level. 1.0 is a beginner who is just starting to receive tennis lessons. 7.0 is a professional player. Regular club players are usually between 3.0 and 5.0. A broader classification system uses only three levels: beginner, intermediate and advanced.
NTRP Tennis Rating System: Where do you fall into?
The first step in how to be a better tennis player is to know your current skill level. The easy way would be to classify yourself as beginner, intermediate or advanced. However, the more accurate NTRP rating provides a better assessment.
While it is possible to self-rate, your actual NTRP rating can only be officially determined by a qualified and USTA certified teaching pro. If one of your goals is to participate in a USTA league sanctioned tournament, then you have to be officially rated by a pro.
How to Be a Better Tennis Player: Assessing your Own Tennis Game
After knowing your rating, you should do a detailed review of your game. First, identify your strengths. These are the things that you do well. Next, identify the areas of your game that are inconsistent. These are things that you sometimes do well and sometimes do poorly.
Last but not least, identify your weaknesses. Start out with an analysis of your strokes. However, do not make the mistake of limiting your assessment to just this area. Instead, consider all aspects of your game.
Your Tennis Strokes
What are the shots that you hit well?
What are the shots that are inconsistent?
What are the shots that you struggle with?
What situations or conditions help you or hinder you from hitting your shots well?
Your Tennis fitness
How is your movement? Are there certain movements that you do better than others?
How are your speed, agility and footwork?
How much endurance do you have?
Do you need to increase your strength and power?
How flexible are you?
Do you have problems regarding your weight?
How can you improve in terms of nutrition?
Your Tennis playing style
What are the usual strategies and tactics you usually use? Are these working or not working for you?
How is your court sense and anticipation?
Your Tennis mental game
How do you deal with pressure situations?
Are you able to focus on what matters when playing a match?
Are you able to think clearly about strategy and tactics? Are you able to execute under pressure?
What is your general temperament on the court? Are you aggressive or passive? How is this working or not working for you?
You can assess all of these things yourself but it is also valuable to have some input from an impartial observer like a coach. Sometimes, you really have to look for help if you want to know how to be a better tennis player.
Learning How to Be a Better Tennis Player through Goal Setting
After you make a proper assessment of the state of your game, identify your goals. It is better to have a general objective as well as specific objectives related to each area of your game. A general objective would probably be to move up from a certain NTRP level to the next.
This is a more measurable and attainable objective compared to simply saying that you want to improve everything.
Identifying specific objectives is one of the keys in knowing how to bea better tennis player. Take care not to overwhelm yourself. Instead, take it step by step. Start by identifying about 5 improvements that you would like to make in your game.
How to Be a Better Tennis Player: Principles of Success
There are certain principles that you must try to remember with regards to each area of your game. These principles will help you formulate a plan that will address how to be a better tennis player.
Tennis Strokes
If your problem is deficient stroke production, correct this with constant drills and practice.
If your problem only arises in certain situations, practice constantly to become less uncomfortable in these situations. For example, if you struggle with high bouncing balls on your backhand, practice hitting back a lot of high bouncing balls by taking them earlier or adapting your swing accordingly. On the other hand, you can practice running around your backhand to hit forehands since high bouncing shots usually give you time to do this.
If your problem is a lack of strength or power, work on your fitness. Focus on exercises that help your stroke production for your particular weakness. If your weaknesses are your serve and your backhand, you can do specific exercises in the gym for strengthening the muscles used for these strokes.
If your problem is your movement to hit the shot, work on your footwork, speed and agility. Focus on drills that would help you execute the shot better. If you are not moving well over to the forehand side, do drills that keep you on the move back and forth to hit forehand shots.
Tennis Fitness
Identify which tennis fitness component/s you need to work on and do the corresponding exercises or drills.
Strength – strength training with weights in the gym
Flexibility – stretching exercises
Power – plyometric exercises including jumping and medicine ball throwing exercises
Speed and agility – sprints, shuttle runs, agility drills, footwork drills
Endurance – sprints, shuttle runs, footwork drills, aerobic exercises
Weight and nutritional problems – set a target weight and modify your diet accordingly. You can also try consulting a nutritionist.
Tennis Playing style
consider what you can do to improve your general strategy and tactics based on your assessment. For example, if you are a counterpuncher but you don't know how to lob, then you should definitely add this shot to your repertoire. If you are an aggressive baseliner but your patterns have become too predictable, try to learn some new shots to add to your arsenal and train yourself to use these shots in actual matches.
Tennis Mental Game
train yourself in the following areas
Focusing on the ball
Keeping calm but determined
Dealing with distractions and the conditions
Dealing with fear, nervousness and pressure
Learning to respect your opponent and other people involved in a match (umpires, linesmen, ball kids)
Formulating a Plan Towards Your Goal of How to Be a Better Tennis Player
Once you identify what you need to improve on, you can now formulate a plan on how to be a better tennis player.
The best thing about this plan is that it is tailor made exactly for you by you. It is based on the assessment you made and uses the principles for improving the specific areas of your game that you have identified as needing work.
A good plan must be realistic and time-bound with observable and measurable results. Make yourself accountable for any failures or shortcomings in the execution of this plan. Do not be too rigid with your plan.
Sticking With Your Plans
However, you shouldn't be too lenient with yourself either. For example, if your problem is lack of power on your serve, outline the steps on how to attain a more powerful serve and set a timetable for your progress. Check yourself against this timetable.
Improving as a tennis player takes time and effort. You may need to assess yourself over and over again and make a series of plans to attain incremental improvements. Nevertheless, in the end, you will definitely be rewarded.
If you stick to your plan and focus on the specific things that you need to do, you will be on your way to becoming a better tennis player.
Learn to Hit a Forehand Like Roger Federer
If you want to jumpstart your forehand and play like the PROS, check out my 70+ page Tennis Ebook that will immediately show you how you can take your forehand to the next level.
The Modern Forehand Domination Ebook is guaranteed to improve your tennis technique, and increase power, topspin and accuracy of your tennis forehand!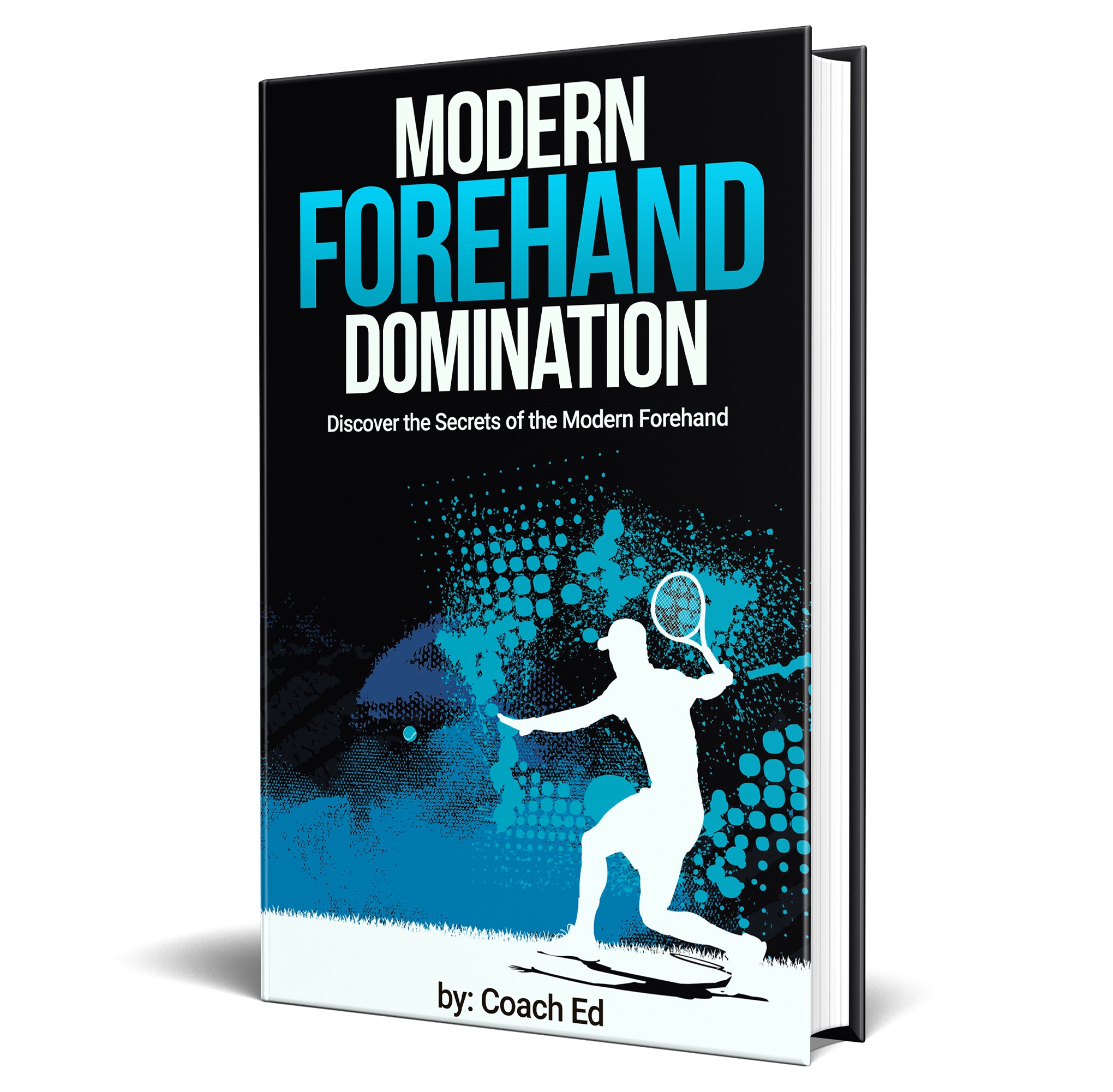 Modern Tennis Forehand Ebook
Learn How to Hit a Forehand Like Federer, Nadal and Djokovic