Any great duel in sports will feature two opponents of contrasting styles and personalities.
That's what made Ali-Frazier so compelling, as well as McEnroe-Borg or Connors-Lendl. Depending on which type of person you preferred—the quiet, no-nonsense type or the loud flamboyant one—you picked sides in the rivalry, thus boosting interest in it.
You established a bad guy and a good guy, even if both guys were quality people.
The same dynamic has made the Federer-Nadal rivalry in modern tennis a compelling one for viewers around the world. The contrast between the two men is great. One hails from an Alpine country and is known for his cool on the court and his reserve off of it. The other comes from Spain and has Latin emotion coloring all of his movements, although he is not known as a loud person away from the stadium.
The Roger Federer and Rafael Nadal Rivalry: A tennis fan's dream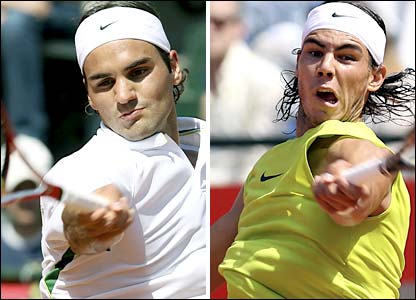 What also makes the Federer-Nadal rivalry a programmer's dream is that both men have not only met more times in huge matches than any pair in history, they have established record winning streaks on different surfaces, highlighting their different styles and lonely abode at the very top of the men's game.
The Federer-Nadal rivalry also draws intense interest because for several years, fans wondered if anyone would come along to challenge Roger Federer as he reigned at number 1 for a record length. Was any player capable of beating him? Would he quickly obliterate the record for most majors won? Rafael Nadal came along just in time to dethrone the king and give him a worthy rival for many years.
The Background Behind the Federer and Nadal Rivalry
For instance, Federer won 65 straight matches on grass and 56 on hard courts, records for the open era. Nadal blew past both of those numbers on clay, winning 81 consecutive matches on that surface. Here's where the fun begins—all of those streaks were broken in a loss to the other man!
In Grand Slam finals, they have faced each other a record eight times, and all but three of their losses in such finals have been to each other. In other words, when Rafael Nadal and Roger Federer enter a major tournament, they often can count on facing each other in the final if they are on opposite sides of the bracket. They have seen each other in such circumstances more than any pair of players in men's tennis history.
The very record of the Federer-Nadal rivalry in major tournaments adds to the intrigue. While many people were claiming that Federer was the greatest tennis player of all time due to his all-around game, mastery of all surfaces and number of major titles won, Nadal crashed the party and began to beat Federer regularly in major tournaments, quieting the argument for Federer as the Greatest Of All Time in men's tennis.
Federer and Nadal Rivalry: Breaking All-Time Tennis Records
Just to illustrate how crazily Nadal has ruined Federer's plans for long-time global dominance, consider that during Federer's four-year run from 2004-07, perhaps the most dominant streak for any men's player ever, Nadal had an 8-6 advantage over Federer. That means that Federer was 309-16 against all other opponents, a stunning .951 winning percentage! Yet, against Nadal, that dipped to a miserable .429 winning percentage, less than half.
What's more is that Rafa beat Roger in many matches that would have earned Federer an unmatched place in tennis history, including the 2006 and 2007 French Opens, both of which would have given Federer a calendar year Grand Slam. In addition, Nadal completely thumped Federer on clay in Paris every year from 2005-08, creating a major hole in Federer's resume.
Roger did come back to win the French Open in 2009 (Rafa was eliminated before the finals) and also got a small measure of revenge on Rafa in the ATP World Tour Finals in 2010, besting him there.
Statistics of the Roger Federer and Rafael Nadal Rivalry
In Grand Slam matches overall, Federer stands a glum 2-7 against Nadal, who has had to go through Federer for all of his 6 Grand Slam title wins. And, as if the Federer-Nadal rivalry needed any more spice, their 2008 Wimbledon Final has been called by most tennis experts as the greatest match in the long history of the sport. On that memorable June day/evening, Nadal edged Federer 4-6, 4-6, 7-6, 7-6, 9-7 in a match that anyone who watched it will never forget. That slimmest margin of victory symbolizes well the symmetry in talent levels that the two men have.
The rivalry draws so much attention because from 2005-2011, the pair captured 22 of the last 29 Grand Slam titles. The recent emergence of Novak Djokovic might dampen this all-time great rivalry, but it remains to be seen if he has the staying power of these two tennis legends.
Overall, on the three different surfaces on which the men play their tournaments, the Federer-Nadal rivalry looks like this: Clay—12-2 Nadal; Hard court—5-4 Federer; Grass—2-1 Federer. The rivalry continues to feature epic matches as Nadal defeated Federer in three out of four matches in 2011.
Federer and Nadal Tennis Rivalry: Setting The Records
Here are a few more facts to illustrate the predominance of this duel over the past several years in men's tennis:
Federer and Nadal are the only No. 1 and 2 pair to contest the French Open and Wimbledon men's finals back to back in a calendar year during the open era. They are also the only pair in the history to contest both of these finals back to back for three consecutive years (2006–08).
Federer and Nadal are the only pair to face each other in eight Grand Slam singles finals (2006–08 Wimbledon, 2006–08, 2011 French Open, 2009 Australian Open) in the span of 6 years.
Federer and Nadal are the only No. 1 and 2 pair to win 11 consecutive Grand Slam singles tournaments between them (2005 French Open – 2007 US Open). In this period, Federer won 3 consecutive titles at both Wimbledon and the US Open and 2 consecutive titles at the Australian Open, while Nadal won 3 consecutive French Open titles.
Federer and Nadal have won 8 consecutive Wimbledon (2003–10) and 7 consecutive French Open (2005–11).
Federer and Nadal won the French Open, Wimbledon and US Open trio for 4 consecutive years (2005–08).
The Style and Tennis Technique Differences Between Roger Federer and Rafael Nadal
What makes the rivalry intriguing beyond the numbers are the greatly contrasting styles of the two players. Federer glides across the court and plays a classic game, whipping forehands and one-handed backhands with equal ease, mixing in a deceptively fast and difficult serve. He never seems to break a sweat, rarely grunts when he attacks the ball, always looks in control. Nadal, by contrast, makes a lot of noise as he smashes his looping forehand with the most topspin of anyone on the tour.
He also grunts a lot when he crushes his double-handed backhand, sweating profusely throughout the match and heaving his hulking frame from point to point while the wiry Federer waits for him to serve again. It's like watching a graceful bird against a raging bull.
A Display of Sportsmanship between the Federer and Nadal Rivalry
Finally, the last ingredient to this great competition between Roger Federer and Rafael Nadal is the tremendous sportsmanship that both men bring to the court. Sure, the rivalry might be a little more scintillating if the two men genuinely disliked each other, but there's something special about a rivalry between two true gentlemen.
What happens is that each must summon tremendous emotion to whip the other, even as they respect each other to the bone. That respect also keeps the enmity to the court and not off it, lending a classic dynamic that many people would say represents the best in sport—two men of equal abilities squaring off in white-hot intensity, then shaking hands sincerely when the battle has ceased.
The Battle for the Greatest of All Time in Tennis Inside the Roger Federer and Nadal Tennis Rivalry
The men's attitudes towards the rivalry differed in its early stages but more closely mirrors the other's now. Federer was slow to publicly acknowledge Rafa as his main rival, waiting to see if he could stay on the competitive scene as long as Roger had. After their epic 2008 Wimbledon fight, even Federer had to admit that the rivalry became "more and more special the more times we play against each other." Rafa has never shied from stating publicly what it means to beat Roger, who was his idol and role model as he worked his way up the professional circuit.
The Federer-Nadal rivalry will go down in history as the greatest ever to this point in tennis history. Whether or not either player ranks as the GOAT, their rivalry will remain unparalleled, and it will be recalled with the same respect that the two players have consistently shown each other even while trying their best to beat the other's brains out.
Learn to Hit a Forehand Like Roger Federer
If you want to jumpstart your forehand and play like the PROS, check out my 70+ page Tennis Ebook that will immediately show you how you can take your forehand to the next level.
The Modern Forehand Domination Ebook is guaranteed to improve your tennis technique, and increase power, topspin and accuracy of your tennis forehand!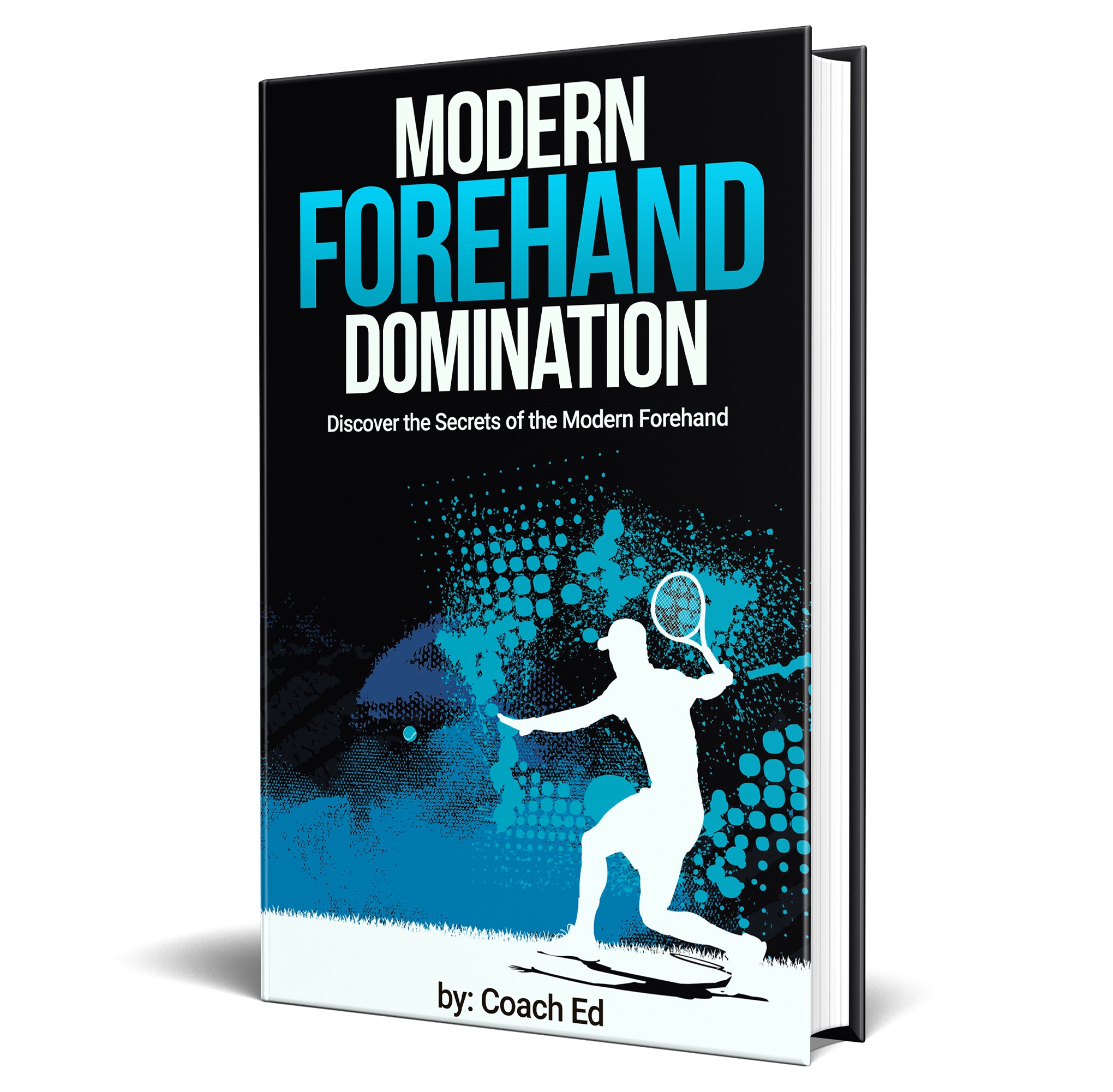 Modern Tennis Forehand Ebook
Learn How to Hit a Forehand Like Federer, Nadal and Djokovic